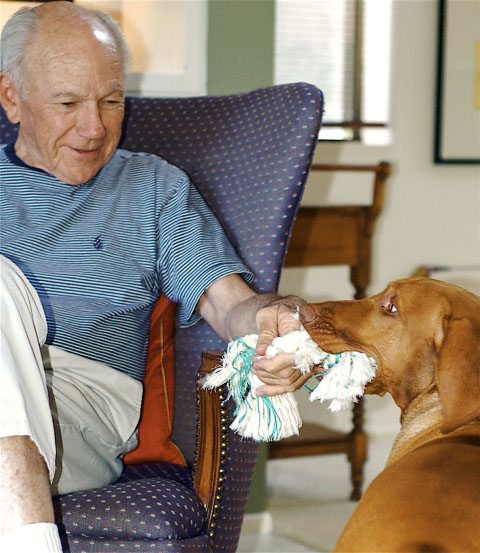 An HSU alum who worked as a student at the Library has left Humboldt State University a $200,000 bequest for the Library.
Malcolm Buchanan ('50, English) worked alongside Librarian Helen Everett as a student at Humboldt State College, and then went on to a 30-year career in education. He passed away December 2014 at the age of 88.
To many, the HSU Library is a place to study and to collaborate, a place that inspires, and for Malcolm Buchanan, it shaped his life. "Our college experience often guides our whole life and this was certainly the case for Malcolm. He would be so happy this money was going to HSU. It was always his wish." says longtime friend Ken Fish.
After graduating from Humboldt State, Buchanan became a high school English teacher and later a librarian for the Newport Mesa Unified School District in Costa Mesa, California. Buchanan's passion was helping students so after retiring he took a position as a librarian at University of California Irvine assisting students in the library with research.
His bequest will help fund Library renovations and student internships. Renovations include updating the Helen Everett Reading Room and third floor student study spaces to support collaborative learning, digital scholarship, and showcases for student research.
HSU students will also receive unique hands-on project based learning experiences under the Library's Special Collections and Scholarly Communications programs. They will work with rare and unique collections, and curate digital exhibits that highlight research projects and regional history. They will also have a chance to design, layout, and edit materials for the Humboldt State University Press, which launches this fall.
"We are very grateful for Malcolm Buchanan's generous support for the HSU Library," said Cyril Oberlander, Dean of the University Library.
"His gift recognizes the importance of a library in academic experiences and shaping the future of students. Helping us renovate the Helen Everett Reading Room, study areas, and expand transformative learning opportunities will strengthen our ability to support student research, and to inspire everyone about the outstanding research and scholarship at HSU."