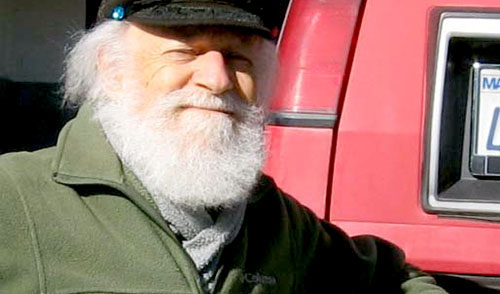 Lance Hardie is a renaissance man. He's been an electrical engineer, small business owner, writer, editor, radio host, and on-air programmer, and among his many interests is the future of our planet. As a longtime community member who's taken extended education classes at HSU, Lance, 78, sees Humboldt State as part of the solution to the daunting energy challenges facing our world.
That's why Lance is including HSU in his estate plan. He's chosen to name Humboldt State University Advancement Foundation (HSUAF) a charitable beneficiary of his Individual Retirement Account (IRA). One hundred percent of Lance's IRA will go toward establishing a permanent endowment at Schatz Energy Research Center (SERC), a gift that will support future generations of students researching sustainable technology.
"Of course, the future is indeterminate," Lance muses, "but my hope is that this endowment with SERC will encourage a student with interest and talent, who, in the future, may produce something of great value."
Lance was born in Argentina to Hungarian parents. After moving to America, he served in the U.S. Navy from 1958 to 1962, the last three years on a diesel submarine during the Cold War. He studied electrical engineering at the University of Houston, graduating in 1967. During a tour of the western U.S. in 1990, Lance fell in love with the sheer beauty of Humboldt County. Soon after, he and his wife uprooted from Florida and moved here. Lance has been an integral part of the HSU community for over 25 years now.
Lance first became involved in the Humboldt community through KHSU as a pledge drive volunteer. He also worked as an on-air programmer, and for ten years he engineered Jean Wellington's "A World of Music" program. Lance eventually became the on-air host of The Home Page, where he introduced monthly book reviews and interviewed local political figures, artists, and HSU community members—experiences that made Lance begin to feel like he, too, was part of this vibrant community.
Aside from his involvement with KHSU, Lance also immersed himself in the community through intellectual pursuits. He's edited and written articles on organic farming for the Co-op News, he's written essays for local papers Anthem and Edge City, book and DVD reviews for Parabola, and articles for the Theosophical Society's magazine, Quest.
Living close to campus, Lance has taken advantage of lectures, concerts, and extended learning classes at HSU, studying radio production, music, and world religion. Lance's diverse academic interests are a credit to his unquenchable curiosity and a reminder that HSU is a hub of creative energy.
With his gift, Lance is supporting a different kind of "creative energy"—a term that takes on a more literal meaning at SERC, where students are learning to develop creative energy solutions to the challenges of the 21st century. "I decided to leave my planned gift to SERC because those students are empowered to research and develop clean energy technologies for our planet." Lance knows that, very much like Humboldt's towering redwoods, great change can start from a single seed.
Lance remains hopeful about the future. "I know enough history to understand the world is unpredictable, yet I remain an optimist." His optimism is due, in part, to some of the research being done at Humboldt State University. "It's incumbent on all of us to leave the world a better place. It's important that I do what I can to encourage students and the growth of knowledge."
Lance Hardie is practicing a form of generosity that reaches beyond his own lifetime to positively impact future generations of students. Beneficiary designations on retirement accounts are easy to do. They allow full access to your assets during your lifetime and the flexibility to make changes if needed. You can choose how much of your retirement assets to pass to charity and loved ones. It's possible to help future students while providing for you and your family's needs.